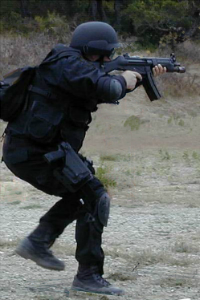 SIG SWANSTROM is a former police officer and police SWAT team operator who worked in the Los Angeles area. During his years of service he had many deadly-force encounters with armed criminals. As a result, his writing and teaching is real-world practical. And today, as the founder of two highly acclaimed firearm defense training academies (www.TXRFA.org and www.CampBarkeleyTactical.com), SIG has also learned how to capture the interest of his audiences and teach them practical real-world preparedness skills.
During his years as a police detective and crime scene investigator (CSI), SIG probed many criminal cases in which firearms were used against innocent people. And, he also investigated incidents where law abiding citizens used guns against their attackers. As a result, SIG's familiarity with the topic of 'God, Guns, and Guts,' comes from both personal experience and incidents he personally investigated. This experience comes through powerfully in his writing and teaching.
After taking an early retirement from law enforcement, SIG lived with his wife and children in Guatemala for a number of years. This was during that country's bloody civil war. Again, he had the opportunity to be involved with the real-world use of firearms, and live in the midst of violence and social unrest, guerrilla warfare and terrorism. On three occasions, SIG and his family faced guerrilla attacks involving dozens of insurgents who were armed with automatic weapons, RPGs, and mortars.
Background: Raised in California and Washington State, SIG graduated with a university degree in Criminology. After college, he became a police officer in Washington, and two years later he transferred to the Los Angeles-area of California to continue his law enforcement career.
After several years as a uniformed patrol officer, SIG became a Crime Scene Investigator (CSI), and was subsequently promoted to Detective. After joining the SWAT team, SIG received advanced certifications in: special weapons and tactics, firearms, close quarters combat, officer survival, bomb and IED threat, weapons of mass destruction (WMD) disaster response, and was trained by the US Secret Service in special protection missions.
One ongoing special assignment was to serve as the personal bodyguard for Ronald Reagan. Though SIG did work with Reagan after he became president, SIG's one-on-one time with him was after Reagan was governor of California, but before he officially announced his candidacy for president of the United States. SIG also had the opportunity to work directly with General Daniel Shomron (Chief of Staff, Israel Defense Forces, and commander of the Operation Entebbe rescue mission), and with many other national and international leaders.
During SIG's law enforcement career he was named "Police Officer of the Year," was a "Commendation for Valor" recipient, and he received the Mayor's Commendation, U.S. Attorney General's Commendation, and numerous other awards and citations.
SIG is married to his college sweetheart and lives in the Texas Hill Country, but he travels extensively. When he is not speaking, writing or consulting, he is teaching at Texas Republic Firearms Academy, or Camp Barkeley Tactical Training Center which offers advanced firearm tactics for civilians and police, as well as disaster and emergency-situation medical training, tactical medicine (TacMed), and training in various preparedness related topics.

The Most Important Part of This Bio: More important than any life accomplishment, SIG regards a decision he made at the age 15 to be the most important milestone of his life. Through a series of events he was forced to acknowledge the reality of good and evil in this world, and that we live on one side of this fence or the other. And further, that fence-sitting isn't possible.
Though raised in a church-going family, it was at this point in his teenage life that SIG made the decision to get serious about his faith in Jesus Christ as his Savior, and to serve Jesus wholeheartedly. Far from perfect, since that point SIG has nevertheless been guided by this commitment, and he has reveled in a personal relationship with Jesus as his Lord.
The Bible verses which command, "Seek first the Kingdom of God and His righteousness, and the things needed for life will be added unto you" (Matthew 6:33), and "Love the Lord your God with all your heart [passion], and with all your soul [individual uniqueness], and with all your mind [intellect], and with all your strength [energy] (Mark 12:30), provide focus for his daily life.
If you have not made this commitment to ask God to forgive you for your failings, and to accept His free gift of becoming a member of God's family, made possible not by our own goodness but through Jesus sacrifice of His life on the cross, and to become a follower of the living Jesus, please consider doing it now. This decision isn't a philosophy of biblical living, it's not a religion, it's a whole new life. Literally. Without the free gift of forgiveness that Jesus offers us, and a personal relationship with the Creator of the universe, we are incomplete. Life on earth is only the beginning. He values choice; it's our choice how we will respond.
SIG welcomes comments or corrections on his books and articles.
Use the 'Contact Me' tab to send SIG an email.
Copyright (c) 2013-2018 SIG SWANSTROM
"A prudent person foresees danger and takes precautions.

The simpleton goes blindly on and suffers the consequences."
Proverbs 22:3