Here is what people are saying about SIG's controversial book...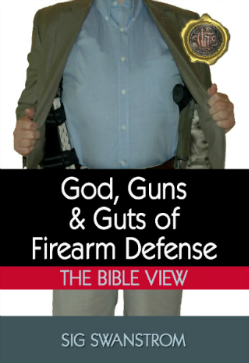 God, Guns, and Guts of
Firearm Defense:
The Bible View



"This is one of the few books that I've read on self-defense that is written from a fully-referenced Christian perspective. I highly recommend it."
-- James Wesley Rawles, Author, and Founder of www.SurvivalBlog.com



Reader Book Reviews
(Amazon-Verified Buyers)
Average Rating: 5-Star *****

As of May 17, 2014, every reviewer gave this book a 5-Star rating.


"[The author] even draws practical, tactical tips from the actions of Jesus Christ when he scourged the tem­ple: "Jesus was not in an angry, uncontrolled rage. And, His actions were not an out-of-control response to the situation. Rather, He was completely in control of His emotions, and He was very strategic in the use of over­whelming violence of action. This is an example of 'tactical Jesus,' and we need to learn from Him the im­portance of shrewd, strategic thinking and acting."

'I have been looking for a book like this for quite some time. I love the tone in which this book is writ­ten. It is not inflammatory or in-your-face. There is no name-calling or extraneous political commentary. The author merely offers up the relevant arguments and their sup­porting scriptures."
-- J.R.


"Not knowing exactly what to expect from this book, I purchased it after a friend highly recommended it to me. They were most certainly right in urging me on the importance, particularly at this time in our coun­try.
"'Often wonder[ed] what God thinks about this sub­ject; Sig Swanstrom's explanation and clarification was easy to understand… Glad it was recommended to me... and I will certainly continue to recommend it to my friends, as well."
-- T. Anders


"I highly recommend "God, Guns & Guts of Firearm Defense" to anyone and everyone who cares about their family, friends and neighbors. '
"Whether you hold to biblical beliefs or not, especially regarding self-defense, this is a must read.
"This book reveals the principles and reasoning for being prepared with firearm defense, and the responsi­bility that accompanies this right." "[The author's] inclu­sion of scripture verses and personal experience in the U.S. and abroad, add to the impact and validity of taking personal responsibility for protecting yourself and oth­ers. This book is invaluable, timely and necessary.
-- Hesed


"Wanted to get scriptural proof to back up the owner­ship of guns and weapons in today's world. This has been a very informative book that gave me the infor­mation to share with others who believe owning and using personal weapons is not scriptural."
-- M. Karl


"Placing this important topic squarely within the per­spective of biblical principles gives a whole new rational for survival through preparedness. The use of deadly force is a very serious issue in today's violent society, but when beliefs and value systems based on Jesus' perspective are followed, a clear picture of reality emerges. Sig Swanstrom has captured the essence of this… in a way that is compelling for any reader, whether for or against the use of a gun for self-defense."
-- JB & BB


"Great book! I love how the author uses content directly from solid sources… to prove his thought pro­voking debate. Relieved as not many religious people out there think this way, or even talk about it."
-- ES



"Reaffirms our need to protect ourselves and oth­ers through a biblical perspective. It's a great read…"
-- Red


"The author writes on a topic relevant to our time from a Biblical viewpoint and from personal experi­ence. He includes many Scriptural references in context and demonstrates solid Biblical understanding relating to use of weapons and personal defense."
-- B


__________________________________________________________

News Media Review

By Gail Welborne
God, Guns, and Guts of Firearm Defense
AUTHOR: SIG SWANSTROM
Oxbridge Press
The author, a former Los Angeles-area police detective and SWAT operator, who is now the owner of a highly acclaimed firearm self-defense school, tackles the difficult question: "What does the Bible, and Jesus, have to say about the use of deadly force and civilians carry­ing weapons?" Then, he brings it all together in his Bible-based conclusions about having the guts to do the right thing in today's real world.
Chapters focus on topics such as what Jesus actu­ally said about carrying weapons, peace-making vs. pacifism, and the strategic use of overwhelm­ing violence of action. Importantly, the author draws from Bible passages to answer often-asked specific questions such as: "How does God want me to respond to a deadly force situation? If I have a gun, should I shoot to kill, shoot to wound, or what?"
Throughout this book, the author makes it clear that the core question isn't, "What would Jesus do?" But rather, "What did Jesus teach us to do?" And he uses the Bible itself to answer these ques­tions.
This isn't a book of personal opinion. The author cites early Church leaders who are considered Church Fathers of Christianity, and uses their own words as commentary on the key verses.
Plus, he uses the words of the Founding Fathers of the United States, reminding us that they used biblical truth as the basis for our nation's laws. As the author explains, we can't fully appreciate the wisdom of the Founders actions, the Bill of Rights, and the 2nd Amendment, without an under­standing of their biblical beliefs and motivations.
Using the Founders own words, the author sheds additional light on the meaning of the U.S. Consti­tution. And he reminds us that by design, the Constitution trumps other laws which conflict with it.
Political correctness run amok has brought confu­sion, and today our courts are used to advance political agendas and government actions which are blatantly unconstitutional. So the author uses Bible passages (and cites hundreds more in foot­notes), and quotes the Founders themselves, to bring decisive clarity to contemporary issues.
Easy to read and written in an engaging style, the author's approach is straightforward and real-world practical. "God, Guns, and Guts of Firearm Defense" is essential reading for anyone who is interested in understanding the biblical principles behind these hot topics, as well as Bible study groups, and for anyone who wants to live according to the teachings of Jesus.
Source: http://www.examiner.com/list/to-keep-or-not-to-keep-by-j-d-timothy-baldwin-d-d-chuck-baldwin/god-guns-and-guts-of-firearm-defense-by-sig-swanstrom